When going sightseeing in Kyoto, many people think that they should stop by Fushimi Inari Taisha Shrine because it is conveniently located two stations from Kyoto Station (about 5 minutes).
However, recently it has become so crowded with people from overseas that it is difficult to even take a commemorative photo with the Thousand torii gates in the background.
Therefore, I recommend visiting at night. It depends on the day, but after 9pm the number of tourists decreases considerably.
Since it's nighttime, the awarding offices are closed, so you won't be able to receive amulets, but Inari Taisha Shrine at night is magical and you can enjoy a completely different atmosphere than during the day.
Scenery of night worship
The photo below was taken the other day (8:30pm to 10:00pm on weekdays).
Around 8:30 p.m., there are far fewer people.
There are no people even in front of the tower gate.
The inside of Senbon Torii (Thousand torii gates) is also like this and is "fantastical"
It feels eerie because there are no people around.
Things to be careful about when visiting the shrine at night
Although it is not well known, Fushimi Inari Taisha is never closed 24 hours a day. In addition, some of the rest areas dotted around Mt. Inari have nameplates, and it seems that some people live there, although not all the time.
Therefore, it is possible to climb to the top of the mountain even at night, but you need to be careful as wild animals such as monkeys and wild boars come close to the approach when it is less popular.
The photo below shows a wild boar that I encountered around 9:30 pm the other day, next to the toilet in front of Yotsutsuji.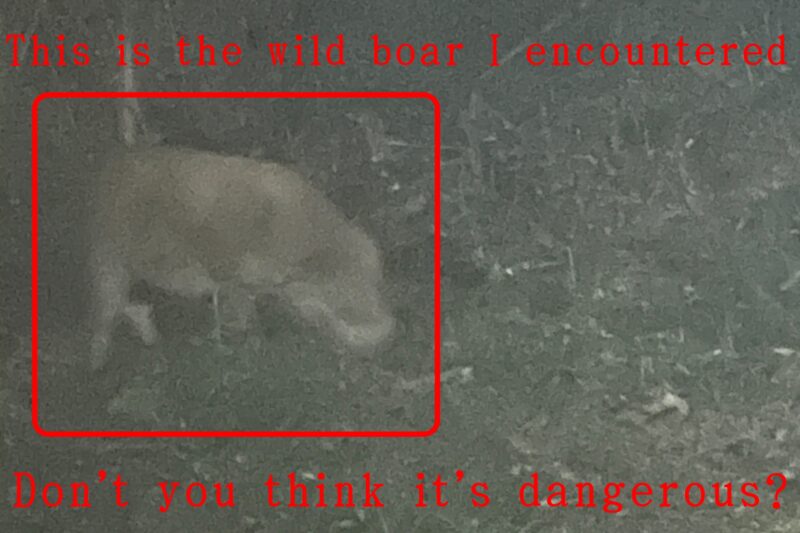 It's dark and the photos aren't very good, but since I'm about 2 meters tall, I thought, "It's pretty bad!"
I encountered three boars, one was an adult and the other two were its children.
I didn't notice them untill we get very close to them because of the dark.
They were about 2 meters away from me, and that was SHOCKING!
I realized that I would be in trouble if someone of that size charged at me, so I walked away slowly so as not to make any footsteps, so I was able to get through it without any difficulty, but even when I think back on it, I still get the chills.
In the past, people have encountered wild monkeys and snakes on Mt. Inari, so please be careful when visiting the shrine at night.
[Points to note when visiting the shrine at night]
You may encounter wild animals at night. (Stay calm and leave the area so as not to provoke anyone.)
Restrooms are closed at night, so make sure to go to the station or convenience store before visiting the shrine.
The awarding offices are closed, so you will not be able to receive amulets.
For safety reasons, please visit the shrine in groups at night.
Yotsutsuji Square with a panoramic view of Kyoto City
It takes about 30 to 45 minutes to walk from the main shrine, but when you pass through the Senbon Torii gate and head to the summit of Mt. Inari, you will come to a plaza called Yotsutsuji, which is divided into two roads: one going to the summit and the other going up Kojinmine.
The view of Kyoto city from Yotsutsuji is spectacular, and it is one of the best night view spots in Kyoto.
It's a steep slope (stairs), and it takes a lot of physical strength to get to this point, but it's worth seeing.
In conclusions
In this article, I introduced the fantastic torii gates and night view spots, but what I really wanted to tell you was that I came across a wild boar. And I wanted people to be really careful because anyone could come across this.
Actually, this story turned out to be a relief because my son who was with me discovered the boar early on, but he may have been injured because he was too late to realize that he was alone.
It was really bad. I still get chills even thinking about it now.