The "togarashi" in "Shichimi Togarashi" refers to chili pepper, and "Shichimi Togarashi" is a unique Japanese seasoning that is made by blending seven spices with chile pepper as its main ingredient. The common name is "Shichimi".
Now, I would like to introduce you to the Japanese spice "Shichimi Togashi" from "Okumura".
There are many shops in Kyoto that specialize in a unique Japanese spice called "Shichimi Togashi." Among them, "Shichimi Togarashi Honpo Okumura" is a shop that is popular among independent tourists.
This shop has a history of over 90 years and is located on the north side of the back approach entrance to Fushimi Inari Taisha Shrine. The person in the photo is the third-generation owner, and it is one of the few shichimi specialty shops that still continues to provide the same service that it has offered since its founding, such as mixing shichimi according to customers' tastes.
This time, I was able to see the Shichimi concoction on the spot, so I'd like to introduce it to you.
Introducing Shichimi from "Shichimi Tougarashi Honpo Okumura"
"Shichimi Tougarashi" has a different taste depending on the shop because the ingredients and proportions used differ depending on the shop.
This Shichimi from "Okumura" has a lot of "Sansho" in it, which is the flavor that Kyoto people like. The blend of spices is well-balanced, creating a flavor unique to the Fushimi area of Kyoto.
Shichimi is a spicy seasoning, but this shop focuses on flavor, so it has a rich aroma. It goes well with Japanese pickles and udon noodles.
Ingredients for "Shichimi Togarashi"
The base of "Shichimi Togarashi" is a very spicy spice called "Ichimi Togarashi", which is made from powdered chili pepper. However, "Okumura" is not only spicy, but also has a good aroma.
Okumura's shichimi is a blend of chili pepper, chinpi, shiso, aonori, shirogoma, asanomi, and sansho.
chinpi:dried tangerine peel
shiso : perilla leaf
aonori :green seaweed
shirogoma : white sesame
asanomi : hemp seed
sansho : Japanese pepper
A carefully selected blend of these seven flavors is a tradition of "Okumura" that has continued for over 90 years.
Blend of "Shichimi Togashi"
Because we have inherited the concept from the time of our founding, "mixing according to the customer's preferences," we are able to create shichimi that even people who don't like spicy food can enjoy the flavor.
In addition, you can adjust not only the spiciness but also the amount of "sansho" and "Asamomi" with the help of advice, so you can create your own "Shichimi Togashi."
Below is the slightly spicy shichimi chili pepper that I ordered this time.
First, five types of secondary ingredients were taken out, excluding chili pepper and sansho. This is the base, and you can blend excluding chili pepper and sansho according to your order.
I ordered it to be "slightly spicy," so the Ichimi Karagashi was a lot more than the standard Shichimi.
This bright green and refreshingly scented sansho is made from powdered fresh sansho pepper, and is a specialty of shichimi specialty shops.
Once the mixture is decided, mix it all at once. At this point, you'll notice a very nice aroma.
The finished shichimi can be stored in a special, sturdy zippered bag to prevent the flavor from loosing.
Sansho powder from a shichimi specialty store
Most shichimi specialty stores carry not only shichimi sweets, but also chili pepper and sansho pepper powder. Here at "Okumura," "Japanese pepper powder" is also sold separately.
Some people may be wondering, "Is sansho pepper powder brown?" However, fresh sansho pepper fruit is green, and this is the powder that is made to preserve its flavor!
It goes well with Japanese "eel kabayaki" and "oyakodon", so please try it.
Introducing delicious and spicy grilled mochi
I'd like to introduce a very delicious Japanese dish of yakimochi seasoned with soy sauce and shichimi and wrapped in grilled seaweed. It's very easy to make.
1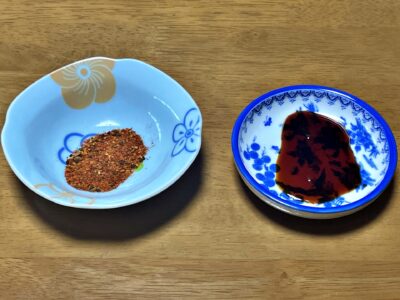 Prepare shichimi and dark soy sauce.
*Please change the amount of shichimi to your liking!
2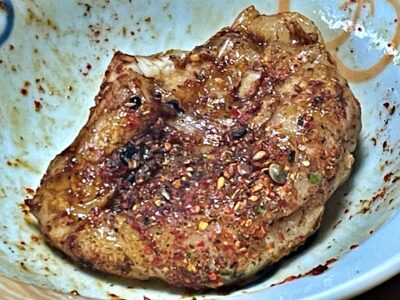 Bake the "mochi" in a toaster oven, dip it in soy sauce, and then add the shichimi kara sweets. At this time, if you knead the mochi, the soy sauce and shichimi will penetrate deep into the mochi, giving it a "Nure-okaki"-like finish.
*Nureokaki is a moist Japanese rice cracker made from mochi.
3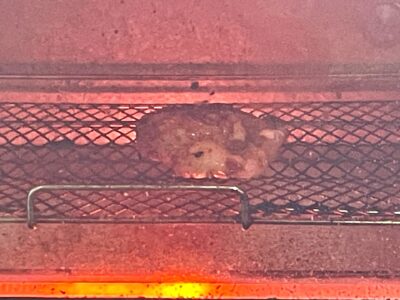 Bake the mochi in the oven for about 3 minutes again to bring out the aroma of soy sauce and shichimi.
4
Once the mochi is baked, wrap it in grilled seaweed and it's done.
What is real "Shichimi Togashi"?
Shichimi chili pepper is a blend of spices unique to Japan, and most of the ingredients are also used in medicinal dishes, and are also used as "condiments", which have the effect of enhancing the taste and aroma of dishes.
Among them, Shichimi, a chili pepper specialty store, uses carefully selected fresh ingredients, which sets it apart from the cheaper "Shichimi Karagashi".
It is also interesting that various types of Shichimi Karagashi have been created due to differences in food culture depending on the region, and you may discover something new by asking the store where you purchase it for recommendations on how to eat it.
In conclusions
I have heard that the regional characteristics of shichimi chili peppers are that Tokyo is spicy, Kyoto is flavorful, and Nagano is unique, but even in Kyoto, each region has its own characteristics.
All of them have an elegant taste that is unique to Japan and a mouth-watering aroma, so it is difficult to judge them as superior or inferior. If I had to rank them, it would be based on personal preference.
If I had to say, there aren't many shichimi specialty shops like Shichimi Togarashi Honpo Okumura where you can mix the shichimi to your liking, so I think it has a rarity value.
For more information, please visit this website ⇒ "Shichimi Togarashi Honpo Okumura"
Access
Address: Fukakusa Inari Nakanocho 47, Fushimiku, Kyoto city, Kyoto, 〒612-0807, Japan
TEL/FAX : 075-641-2293