The Yasurai Festival at Imamiya Shrine, which is held on the second Sunday of April every year, is limited to Shinto rituals that are not attended by the general public due to the corona ritual, and the cruise has been cancelled.
Imamiya Shrine Yasurai Festival
The Yasurai Festival at Imamiya Shrine is designated as an important intangible folk cultural property of the country, and as a folk event rooted in the region, it is one of the three major festivals in Kyoto, along with the Kurama Fire Festival at Kurama Temple and the Taihata Cow Festival at Koryuji Temple. It is counted as one.
The Yasurai Festival is also called the "Flower Suppression Festival," and is a festival in which the roots of the plague are gathered in a flower umbrella decorated with cherry blossoms and camellias to quell the epidemic that is prevalent during the cherry blossom season. It is said to be in the latter half of the year.
The annual patrol is an event in which red-haired and black-haired demons dance to the musical accompaniment, attract the epidemic god to the Hanagasa, calm down at the epidemic company, and pray for a year-long illness. And a flower umbrella. It is said that entering this flower umbrella will be a ward off for a year, and it is customary for local people to enter the umbrella and ask for no illness.
Since the Heian period, there has been a corona-like pandemic, and Shinto rituals are held to calm it down. Nowadays, unlike those days, medicine is advanced, so I can't rely on God, but I feel that history is repeating.
The "Yasurai Festival" is the earliest festival in Kyoto. If the day of this festival is fine, all the festivals in Kyoto that year will be fine.
2014 "Yasurai Matsuri" video (Toutube)
Shooting / Editing / Posting: Mine Akito (555guppy)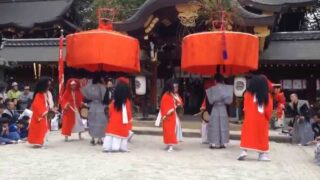 やすらい祭 2014
京都市北区にある今宮神社のやすらい祭京都の三大奇祭の一つで、春(京都で一番早く)に行われる。この日が晴れると、京都中の祭りの日が晴れるらしい。