I always take care of my mother and take care of my family. We had lunch with gratitude to our busy wife. I went to the "Minokichi" Shijo Karasuma store with a little inspiration.
I was worried about Corona, but I was guided to a Japanese-style room (private room) with 8 tatami mats, which has all rooms of about 3 tatami mats. There were two sets of tables, but we were the only ones in the room, so we were able to relax and eat.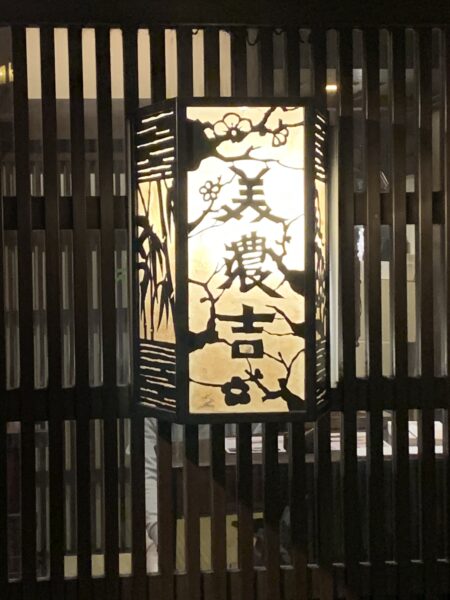 The "Minokichi" Shijo Karasuma store is located in an office building, but when you enter the store, it is designed like a Japanese-style cityscape, and you can feel Japanese culture inside the store, not only for overseas travelers but also for locals. It is also popular with people in Japan.
The inside of the store is like a Japanese-style inn, which you can't think of inside a building.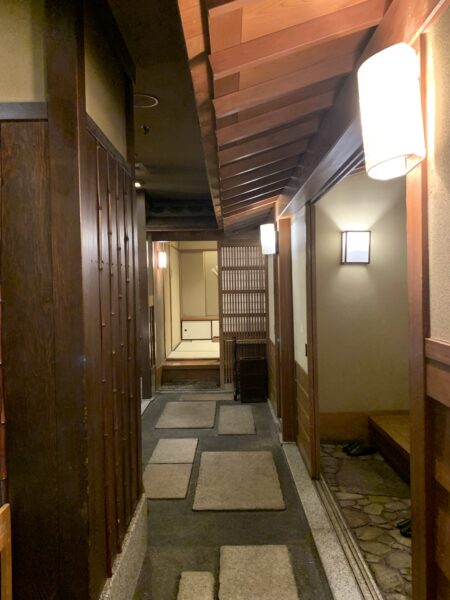 The interior is decorated with Kyoto furnishings
Speaking of the cherry blossom season in Kyoto, "Miyako Odori" is famous, but unfortunately it was canceled this year. Even so, "Minokichi" was decorated with items with the motif of "Miyako Odori" so that customers could enjoy the season.
Kyoto furniture "Sake set" "Fan"
Perhaps with the "city dance" in mind, the "lantern" with "koto", "biwa", and "city dance" written in the tea room creates a fresh Japanese atmosphere.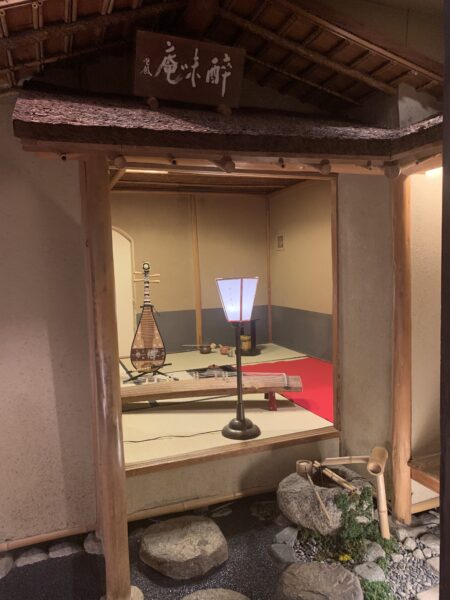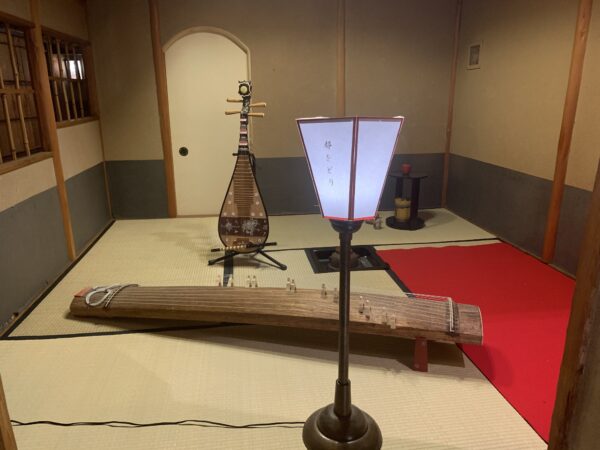 Meals in a private room
The Japanese-style room (private room) guided through the aisle inside the store has a name and feels like a hot spring inn. The inside is spacious and the two are luxurious here. I remembered when I was newlywed.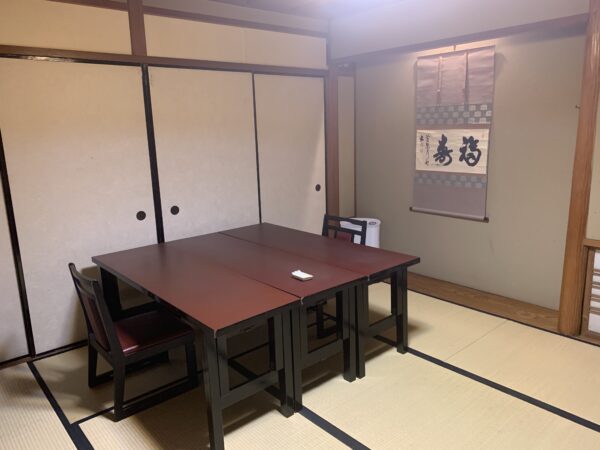 Ornaments in the room
Meals are "Unaju" and "Kyo Bento"
My wife got "Kyo Bento" and I got "Unaju" (1 eel).
[Unagi] One eel
It is a delicious domestic "eel".The black grains on top are boiled Japanese pepper (now in season)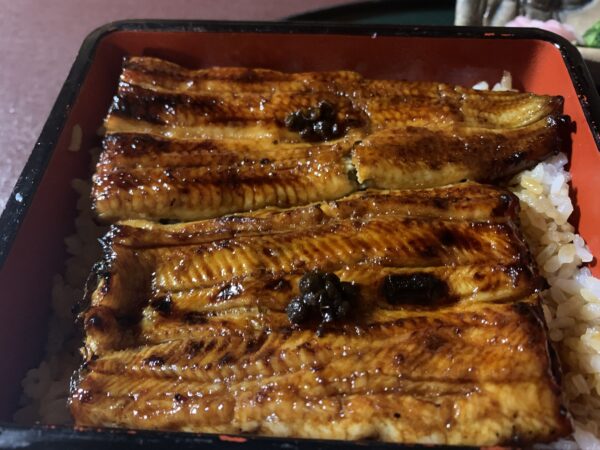 The eel sauce was prepared separately for the Japanese pepper, but the body was "fluffy" and the seasoning was just right, and it was delicious as it was.
[Eel trivia]
The Kansai eel dish is "opening the belly" that opens from the stomach. The Kanto eel dish is a "back opening" that opens from the back.
In the samurai society, Kanto hated "opening the belly", which makes us think of "Harakiri", and became "opening the back".
Kansai eel "kabayaki" is called "mamushi" and was baked without steaming, but nowadays it is more often steamed and then baked.
Sometimes I want to eat "eel" which is a little chewy and fragrant.
If you bake it over charcoal (bincho charcoal), the scent of charcoal will enhance the taste. If you bake it on a gas fire, the smell of gas will be transferred to the eel, which is a shame.
Not limited to eels, pottery over direct fire is second to none. (Basically high heat far fire)
Natural eels in Japan are classified as endangered and are rarely found in the general public.
[Kyoto Bento]

"Kyo-bento" is a "bento" dish that combines "mini kaiseki" into one. You can enjoy various dishes little by little, and the nutritional balance is the best.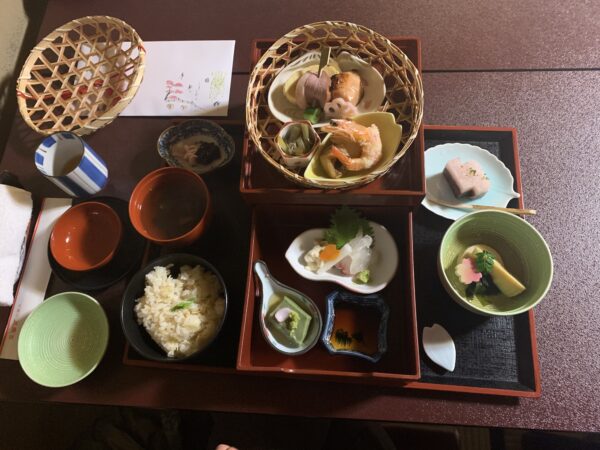 [Trivia of Kaiseki] Menu and order
1. Sakizuke
The first thing that comes up about the seats is "Sakizuke". It is the same as "through" and "protruding".
2. Oshinogi
"Oshinogi" comes out with the idea of ​​"surpassing" hunger. This is to prevent the stomach from leaning when you eat suddenly even though you are hungry. It depends on the shop, but it seems that there are many small sushi and a small amount of soba and udon.
3. Owan
"Chopsticks washing" means "Owan" for rinsing your mouth. It is a good practice to first suck a bite of juice and then get the ingredients. This is an important dish that you can understand the skill of the cook.
4. Mukouzuke
"Mukouzuke" is sashimi. It is a dish that the cook took time and effort to cook seasonal fish, not a fillet. The taste of the same sashimi, such as hidden knives, kelp, and pine cones, changes depending on the cooking method.
5. Hassun
As the name suggests, "Hassun" was named because it was placed in a bowl with a length of "Hassun". Assorted side dishes made from "Sankai" ingredients, which will serve as a link until the next dish is served.
6. Yakimono
"Yakimono" is a dish of seasonal fish that is beautifully finished with leaves and flowers of season. This is the main dish, and recently there are also meat dishes.
7. Takiawase
"Takiawase" is a simmered seasonal vegetable, and you can enjoy the juice along with the ingredients.
8. Rice
Some shops have white rice, while others are cooked rice, steamed rice, and small bowls. In most cases, soup and pickles are included in the set.
9. Mizugashi
"Mizugashi" is a dessert. There are also Japanese sweets such as sherbet and ice cream for fruits and yokan in some shops.
* If you remember this degree, you can behave like "Kyo Kaiseki".
The details of the "Kyo-bento" are similar to the "mini kaiseki" that is arranged at once. It's just the right size for lunch.
Details of Kyo Bento
Married couple is happy, above all!