Unfortunately it was raining today.I hope the weather will be nice tomorrow.
Yesterday, I explored Fushimi-Momoyama, which is famous for sake in Kyoto.
It seems that it was a little early to enjoy the cherry blossoms, but I felt peaceful and nice.
Take the Keihan train and get off at Fushimi-Momoyama station.
Walk through the arcade of the shopping street toward hydrophobicity.
If you go south on a narrow alley named "Ryoma-dori" to the hydrophobic side, you will find the boat inn "Teradaya" where the "Sakamoto Ryoma attack incident" occurred.
Walk the hydrophobic area where the cherry blossoms have begun to bloom.
If Sakura is in full bloom, it would be nice to take the "Jukokubune", but today I decided to walk.
You can see the old "Sake Brewery" on the hydrophobic embankment, and although it was not in full bloom, "Sakura" and "Spiraea thunbergii" were very beautiful.
There were few people and I was able to take a leisurely walk.
Hydrophobic "Sake Brewery" and "Jukokubune".
Many people come to this area for photography and painting regardless of the season.
Hydrophobic "Sake Brewery"
"Jukokubune" going back and forth between hydrophobic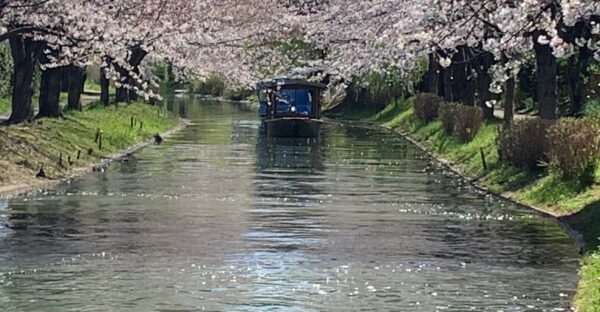 It's peaceful on a nice day.
I often come to this place, but I have never seen a crowded place with few people in the tourist spots of Kyoto.
"Chokenji" that I stopped by walking on the hydrophobic side.
This temple is also called "Benten on the island", and this is the only temple in Kyoto where "Benzaiten" is the principal image.
It seems that many people come to pray for the profits of this world (the profits that can be obtained in this world by worshiping the gods and Buddha). Omamori and Omikuji are famous.
If you have the "Omamori" of this temple, it may be profitable in this world.
I didn't buy "Omamori", but I did worship.
Benzaiten is the principal image of "Chokenji"
Heian period hand-washing stones and stones in the shape of a lucky "frog"
In the old days, "Lie down / see" was written as "Lying down / water"
It seems that good quality water springs up and it becomes food related to water such as "liquor", and this hand-washing water is the same water.
The place where the water is delicious is probably suitable for sake brewing.
Amazing exhibits in the temple
A room selling "Omamori" was released, and expensive hand-painted folding screens and colored paper were exhibited.
A print by the famous singer "Judy Ongg" was dedicated.
After investigating, I found out that "Judy Ongg" is a printmaker who won a special prize at the Nitten exhibition.
Lunch is "Torisei Main Store" of Fushimi Shinsei Sake Brewery
I decided to have lunch at "Torisei" from the shops I wanted to go to.
The store opens at 11 o'clock, but on holidays there is a line from around 10 o'clock.
Today, there was no line and I was able to enter the store immediately, but there were people waiting for lunch (around 12:00).
There is a "Kurra" where you can eat
If you make a reservation, you can eat in the private room "Kura".
I went there for dinner, but I drank too much because I was calm.
Lunch is a set menu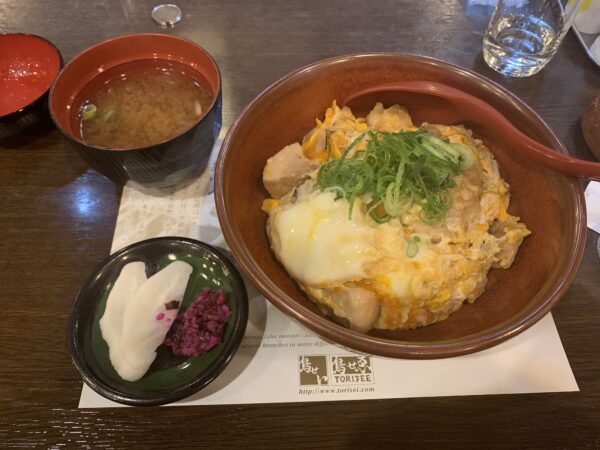 There are about 6 types of lunch sets, and you can eat them for about 1,000 yen.
"Water" is good! "Chicken" are good! I didn't drink alcohol, but "alcohol" is good!
I want to drink "liquor" for "Chicken dish" at night!
The "Sake lees" in this shop contains sake and is very delicious.
I bought it on my way home.