We inform you about the current status of cherry blossoms in Kyoto city.
Tuesday, March 23, 2021 at 2:00 pm. The weather is fine. The temperature is 22 ° C.
Due to the rain the other day, some cherry blossoms have not bloomed yet, but most of them are "30% bloom".

I guess the best time to see Sakura is going to be the end of this month, "Saturday, March 27-"
Depending on the weather, you can enjoy it until the beginning of April.
Current situation of Cherry blossoms in Kyoto
The cherry blossoms nearby the "Kamo River" are bloomed about 30% to 40%.
I could see some of them have not bloomed yet.
I took some pictures at "Kitaojibridge" which are the pictures placed below.
There is "Kyoto Botanical Gardens" across the river from where I took the pictures.
The view of the "Kamo River" near the botanical garden is a very beautiful with many kinds of cherry blossoms blooming in spring.
From here, the next bridge continues northward with "Kitayama Bridge" and "Kamigamo Bridge".
The road between "Kitayama Bridge" and "Kamigamo Bridge" has a "Sakura Tunnel", which is a highlight.
The state at 7:30 on March 23 (Tuesday).
Entering the east from "Kamigamo Bridge", you will find the world heritage site "Kamigamo Shrine".
Currently, the "Jingumae" Square is undergoing maintenance work which is expanding the road around "Kamigamo Bridge" and the eastern road.

The new "Otorii" seems to have completed building and the maintenance is scheduled to be completed by the end of March.
(There is a beautiful new toilet in Kamigamo Shrine)
New "Otorii".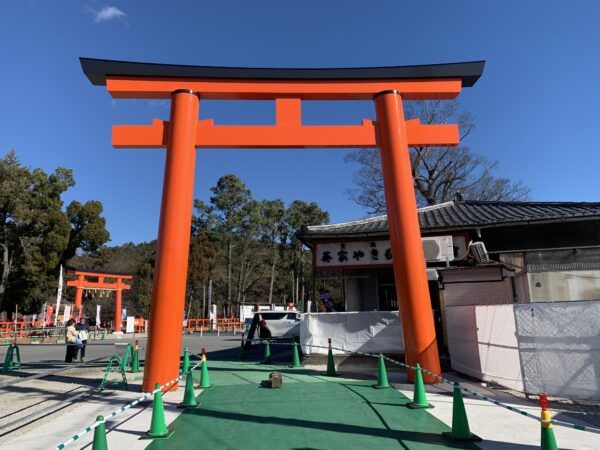 Kamigamo Shrine
"Sakura" with the main shrine in the background.
The state of 14:00 on March 23 (Tuesday).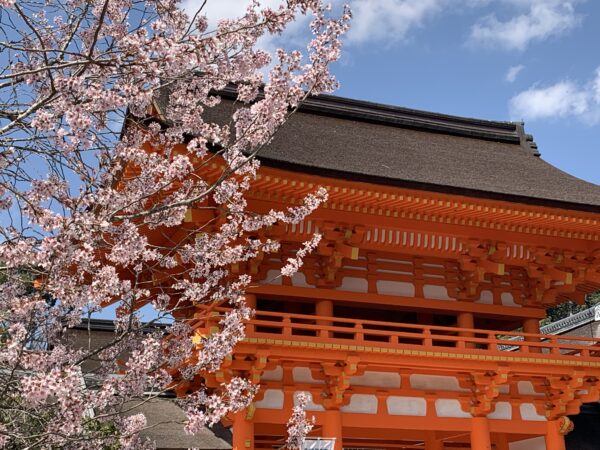 The view of the "Kamigamo Shrine" (Blooms of cherry blossoms).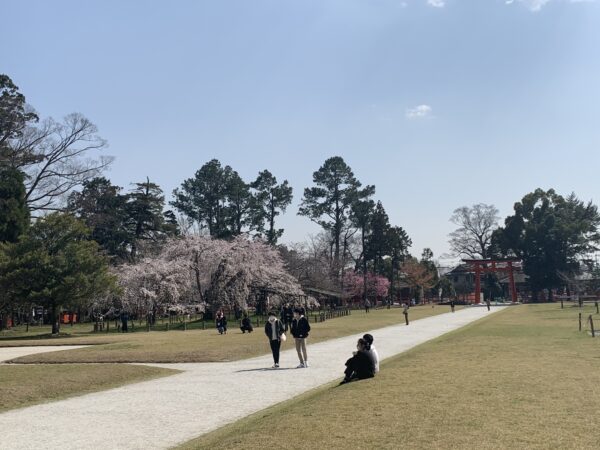 "Gosho" cherry blossoms (weeping cherry blossoms) are "60% blooming" and they still continue the good condition to see.
Recommended route for cherry blossom viewing
Walk from "Kitaoji Bridge" to "Kitayama Bridge" embankment.
     ↓
Head east on "Kitayama"Street.
・ There is a north gate of the botanical garden, you can tour the garden.
・ You can visit places where you can eat, or you can watch some constructions built by famous architects.
There are "Capital Toyo-tei Main Store" and "Mar Blanche Kitayama Main Store" which are famous for hamburgers and tomatoes are delicious.
There are ​​"Garden of Fine Arts Kyoto Prefectural Ceramics" and "B-lock Kitayama" which are the constructions built by architect "Tadao Ando".
"Kyoto Concert Hall" by architect "Arata Isozaki"
↓
Walk from "Kitayama Bridge" to "Kamigamo Bridge" embankment (Sakura tunnel)
     ↓
Enter "Kamigamo Bridge" east and "Kamigamo Shrine"